Vasistha Temple Manali Vashisht is a small peaceful town on the other side of the river from Manali (3km). Many foreign travelers stay here, some, for long periods. There are a few interesting small temples here and some hot springs for bathing. Vasistha is a nice, interesting place to visit.
Hot Springs
Vashisht is famous for its hot sulfur springs. Inside the grounds of the Vasistha Temple there are two hot spring pools that are free. They can get a bit dirty.
There are also clean hot springs at the Hot Bath Complex about a ten-minute walk from the downtown, going towards Manali. There are private baths here for Rs 35 a person for 30 minutes. The springs are supposed to have good health benefits, and they certainly feel good. Open 7 am to 1 pm and 2 to 9 pm.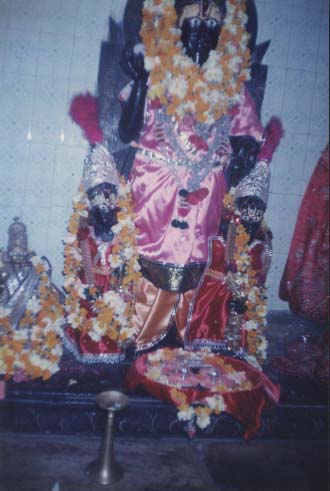 Vashisisha Idol at Vashishtha Ashram Mount Abu
The History of Vasishtha Ashram Mount Abu Shri Vashistha Ashram is situated at a distance of about six kilometers from the Bus stand at Mount Abu.The holy river Sarswati Ganga has been flowing here since the ancient days of Viswamitra and Vashistha,the two great Rishis of India.As legend has it, once, when two sages were engaged in a metaphysical debate, the holy Sarswati chose to support Vashistha. This enraged Vishwamitra who cursed the river by saying "your flow shall always be bloody and unholy".And so it happened. The dejected Saraswati went to all gods and goddesses but no one would help her. Finally she approached Vashistha and prayed,"O Rishi ! I have attained this state, because I had sided you. So please help me and restore my purity."Whereupon Vashistha replied, O Goddess ! Touch my feet and flow near my ashram and you shall be purified." From that time, the river Saraswati has been flowing endlessly at this Ashram. A faithful king installed the 'Gau Mukh' near this flow and built a small pool. One who bathes here and performs the Gaudan Pooja invokes the blessing of gaulok. THE LEGEND OF VASHISTHA ASHRAM In the days when Vashistha used to meditate here, there were no mountains. The land was plain. It was only later on that the mountains were brought here The legend goes like this.Six kilometers away from Vashisth Ashram is situated Gautam Ashram where a great Rishi named Uttang used to study the scriptures. After completing Uttang went to Gautam Rishi, to take leave of him, and to ask him, what he should give as Gurudakshina. The sage Gautam sent Uttang to his wife to ask her for the gurudakshina.



Shrirang Vashta in Vashishtha Temple Manali
Vashistha and Rama Temples
Vashistha was the spiritual master of Lord Rama and is said to have done austerities here. The place where his ashram is said to have been is called Tat Baba and is about a ten-minute walk away from the Vashistha Temple. There is one story in which Vashistha tied himself with ropes and flung himself into the river near Manali after the Rakshasa Kalmashped killed his 100 sons. The river is said to have released the Rishi from his bonds. The river got the name Vipasha, ;liberator from bondage, ; after this event.

There is an old Sita-Rama Temple next to the Vashistha Temple.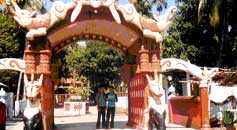 Vasishtha Ashram Guwahati Assam
Vasisth Asrama Cuwahati Assam :The Vasisthasram or the temple Vasistha is located to the south of the Guwahati city at a distance about 12 K.M.

This temple is situated at the foot of the Sandhyachal hill. This place is supposed to be the ancient hermitage of sage Vasistha. The temple is in very idyllic environment which fascinated every devotes. Three rippling streams known to be Sandhya, Lalita and Kanta and a bewildering variety of birds cast a sonorous spell all around and provide the citizen an ideal picnic spot. As a religious region this Asrama has been acquired prominent place in India. Because in the plain area of Himalayan region this is the only asrama supposed to be of sage Vasistha. Again this asrama is also an auspicious yogasrama. This asrama has found mention in epic Mahabharat(in Banparba) and in early Assamese literature like Kalika Purana and also in Buddhist Tantras - the Brahma Yamala and the Rudra Yamala